Baby Bullet Smoker Build - In A Nutshell.
I did some searching here on the site and didn't find much about building a mini UDS out of a Smokey Joe and a tamale pot. I recently completed my "Baby Bullet' build and thought I'd share it here.
First Things First
Ingredients:
1 Weber Smokey Joe Silver (SJS) or Gold (SJG) -  (mine is a Gold)
1 32 qt, tamale steamer pot - (I got a Vasconia Tamale Steamer Pot through Amazon $35)
An extra Smokey Joe Cooking Grate (Lowe's has them on their website, or search craigslist in your area for aused SJG/SJS
10 Stainless Steel (SS) 1/2" - 1/4x20 machine screws
6 SS 1/4x20 Acorn Nuts
10 SS 1/4x20 Nuts
8 SS 1/4x20 Fender Washers
2 Sheets Expanded Metal 12"x24" (Lowe's $9.98 each)
2 Replacement Smoker/Grill Thermometers
1 1/2": NM/SE NEMA Watertight Box Fitting
1 1/2" Rigid Nut (for NM/SE fitting)
1 Tube High Temp Red Silicone Caulking
SS wire
Directions:
The 32 quart Vasconia Tamale Steamer pot from Amazon.




Fit test -Sitting on the SJG bottom with the lid in place.
I cut the bottom out using my jigsaw and a fine tooth hacksaw blade. You can see the 3/4" SS machine screws used for grate rests. After the first smoke, I replaced two of the rests on one side with 1/2" SS machine screws to make it easier to get the grates in and out. I will probably replace all of the rests with 1/2" long machine screws. The 3/4" long ones are overkill.Top rests are 3 1/4" down, bottom rests are 7 1/4" down.
I used SS Acorn nuts on the outside ends of the grate rests, Safe AND pretty.
The grates have about 1/8" cearance from the sides of the cooker. You can see here why 3/4" rack rests are overkill.
Next came the cooking grate thermometers installed about 3/4" below each cooking grate.
I then added a "water tight" fitting for inserting the cooking thermometers. You can find these in the electrical aisle in Lowe's or Home Depot. 1/2" NM/SE Connector.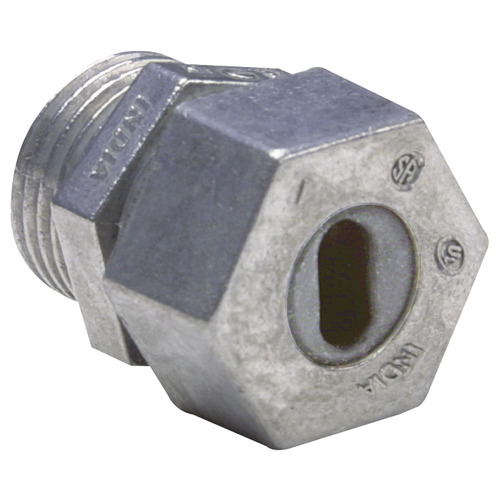 You will need to buy a 1/2" Rigid Nut for the fitting: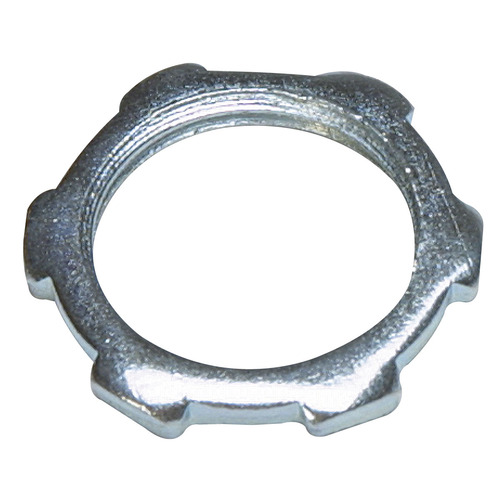 I used a #4 Step Drill to drill the hole for the fittng.
I picked up two 12"x24" 18 ga. expanded metal sheets at Lowe's to make the charcoal basket. I used offset aviation snips to cut a piece of it into a circle the size of the original charcoal grate. I also cut some 3' wide strips to make the sides. I then wired the bottom to the old grate with SS safety wire, and then cut the sides to fit around the grate. The sides are fastened together with 1/2" SS machine screws and SS fender washers. The sides were then fastened to the bottom with SS safety wire.
And finally... it's COOKIN"!!
Things still to do:
Apply high temp silicone in the lip of the SJ lid to help seal it better.
Figure out some method to make the SJG air vents seal better when closed.
Replace the El Cheapo pit thermometers with Tel-True.
Make a floor stand to hold this at a better level to work with.
That's the Baby Bullet Build in a Nutshell.
Now for the FoodPr0n!
1st Smoke - St Louis Style Spareribs
Brown sugar rubbed and then in the refrigerator overnight, dry rub brown sugar, salt, onion powder, garlic powder, black pepper. Smoked at 250º F with hardwood lump charcoal and applewood chunks for first 2 hours and then just charcoal for second two hours.

Dinner report: The ribs came out of the smoker with really good bark. Initially, I was afraid that the brown sugar had burnt, but it had caramelized and got crunchy with no bitter burnt sugar taste! The ribs were juicy and sweet with that crunchy peppery sweetness to balance out what would otherwise be too sweet. All-in-all, I'd call this first cook on the Baby Bullet a total success!!
2nd Smoke - Beef Chuck Short Ribs
I picked up 6 lbs of shorties, my friendly custom butcher made sure that all 14 shorties were within 1 oz of each other. Sweet! Each rib weighs approximately 0.48 lbs. I injected each with beef stock, onion powder, garlic powder and a little red wine vinegar.
I then rubbed them with my beef rub:
3 tablespoon ground black pepper
2 tablespoons kosher salt
1 tablespoon sugar
1 tablespoon onion powder
2 teaspoons mustard powder
2 teaspoons garlic powder
2 teaspoons ancho chili powder
1 teaspoon chipotle
After spending the night in the refrigerator, I built a hardwood lump basket with some JacK Daniel's Oak Whiskey Barrel smoking chunks and laid about 10 JD oak briquettes on top to get it going. Once up to temp I added the ribs, 7 for each grate.
I closed up the smoker and let them go at 225ºF for 6 hours. I had to dd a little charcoal about 4 hours in to the cook. This was a snap! Just close the lid vent, lift the whole cooking section off and add fuel. Replace the cooking section and reopen the lid vent. I always run the lid vent wide open, so it's no trouble to get it set ight again. No smoke loss and the cooking chamber lost about 5 degrees!
I opened the top at the 6 hour mark and checked the internal temperature of a couple of the ribs. They were at about 180ºf. So over back on, 1 more hour of cooking. Pulled the ribs and foil wrapped them and tucked them in some big heavy towels for 1 hour.
Here are some of the ribs jst coming out of their foil.
Dinner!! Sauted squash and Japanese Eggplant, Rosemary Toast, and da RiBS!
The bark came out so perfectly crunch with a wonderful moderately smoky flavor and a bit of pepper kick. The meat inside was tender, juicy and carried a nice hint of the smoke all the way through it. All the connective tissue was rendered into awesomely good tasting wonderfulness! It's amazing how well this little $70 smoker works!
Just got a custom Honduran Rosewood handle from Marty Leach at AML Wood Art
Hope this inspires you to try your hand at creating a Baby Bullet of your own. It's easy and fun! I had no trouble controlling the temperature and once it stabilized at about 230ºF it sat there for hours.
Update Feb. 6, 2012
Honduran Rosewood handle by Marty Leach @ http://www.amlwoodart.com/Weber-2.html
Custom built LN250R thermometers from Tel-Tru @ http://www.teltru.com they custom built these with 1/2" NPT threaded connectors rather than spring clips. They cost about $51 each and the cn be re-calibrated. They are very accurate thermometers!